Through all its ups and downs, the U.S. homebuilding industry is making slow progress.
While housing starts declined 11.1 percent in May to a 1.04 million annualized rate, it followed a revised 1.17 million pace the prior month to cap the best back-to-back readings since late 2007, Commerce Department data showed Tuesday in Washington. Permits for future projects climbed to the highest level in almost eight years.
The stop-and-go nature of the rebound, which has been exacerbated by the inclement weather that brought construction to a near standstill at the start of the year, masks a steady recovery in the industry at the center of the past recession. While residential real estate has yet to fulfill its typical role as a pillar of this economic expansion, gains in hiring and bigger paychecks are brightening Americans' moods and could lift home purchases in the second half of 2015.
"A big decline was almost inevitable after such a surge in April," said Jim O'Sullivan, chief U.S. economist at High Frequency Economics in Valhalla, New York, whose forecast for 1.05 million starts was among the closest in a Bloomberg survey. "With the labor market continuing to improve and unemployment coming down, overall conditions for housing should remain pretty favorable."
The 11.1 percent drop in housing starts last month followed a 22.1 percent surge in April that was the biggest since January 1990 as the industry recovered from the bitter winter weather.
Bloomberg Survey
The reading fell short of the median forecast of 81 economists surveyed by Bloomberg, which projected 1.09 million. Estimates ranged from 1.02 million to 1.16 million.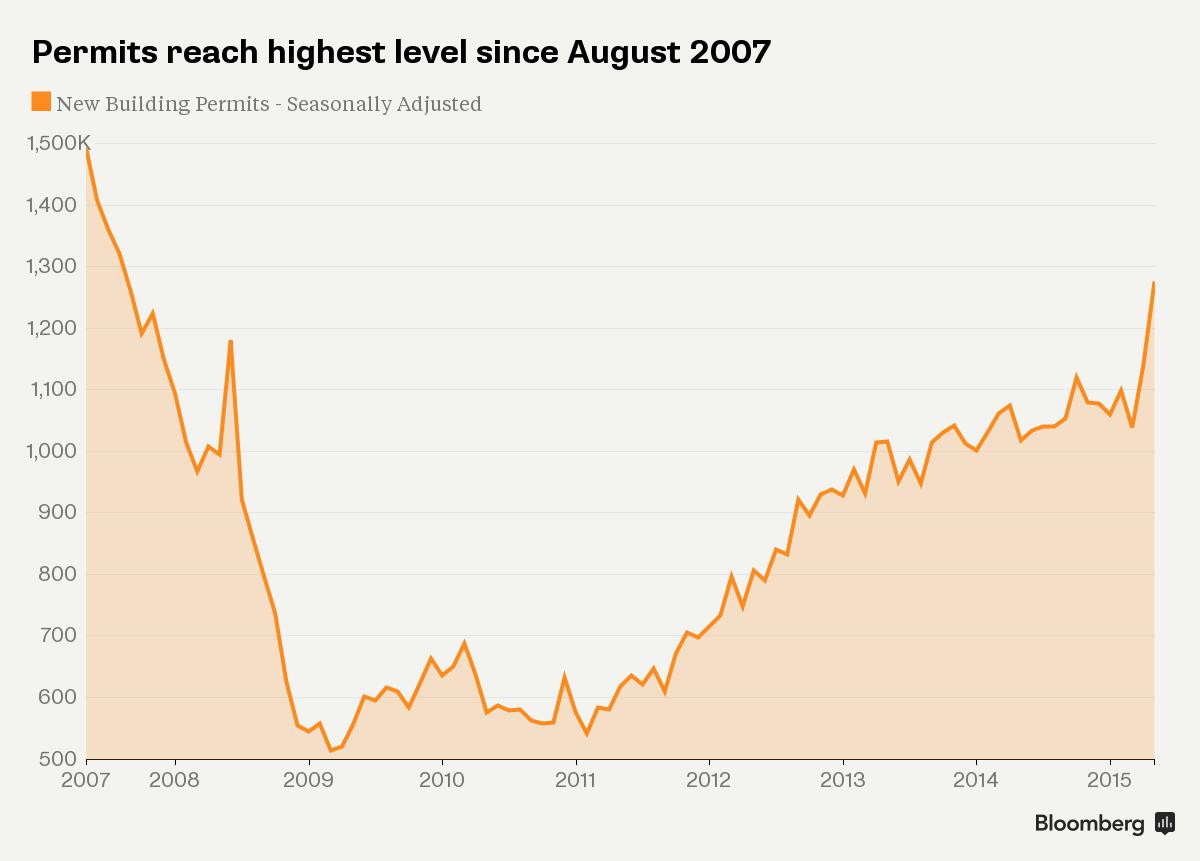 Stocks advanced, erasing Monday's slide, as investors speculate the Federal Reserve won't rush to raise rates amid uncertainty over Greece's future in the euro. The Standard & Poor's 500 Index rose 0.6 percent to 2,096.29 at the close in New York.
Building permits increased 11.8 percent to a 1.28 million annualized pace, the most since August 2007. They were projected to fall to 1.1 million, according to the Bloomberg survey median.
While that's normally a signal that construction will pick up in coming months, the data came with caveats as applications in the Northeast surged 77.7 percent, the biggest jump since June 2008.
Tax Break
The increase "probably reflects, in part, an effort by builders and developers in New York City to take advantage of tax breaks before they expire in late June," Omair Sharif, a rates sales strategist at Societe Generale in New York, said in a note to clients. That signals the gain will not be sustained.
Work on single-family properties declined 5.4 percent to a 680,000 rate in May from 719,000 the prior month. Construction of multifamily projects such as condominiums and apartment buildings, which can be volatile, dropped 20.2 percent to an annual rate of 356,000.
Construction decreased in all four regions, led by a 26.5 percent slump in the Northeast.
The starts data were in line with a report Monday showing builder confidence rose in June to a nine-month high. Sentiment increased in all four U.S. regions and the sales outlook was the best since October 2005, the National Association of Home Builders/Wells Fargo gauge showed.
April housing data showed industry momentum was spotty at the start of the spring selling period with purchases of new homes increasing while sales of existing homes unexpectedly fell.
Mortgage Rates
Relatively cheap borrowing costs are still supporting homebuyers. The average rate on a 30-year fixed mortgage was 4.04 percent in the week ended June 11, according to data from Freddie Mac in McLean, Virginia. That's below the average 6.06 percent in the last five years of the economic expansion that ended in December 2007, when the housing market boomed.
Further labor-market progress should keep up expectations for gains in housing and the broader economy. Employers added 280,000 jobs in May, the most in five months, after a 221,000 April advance. An increase in the number of people entering the labor force caused the jobless rate to creep up to 5.5 percent from 5.4 percent, which was the lowest since May 2008.
Average hourly earnings reported with the Labor Department's monthly jobs figures accelerated in May to show a 2.3 percent year-over-year gain, the fastest since August 2013.
Advances in hiring and wages are keeping executives at Mooresville, North Carolina-based Lowe's Cos. positive about sales prospects.
"We've got modestly improving wages, so the income environment is constructive for home improvement," Chief Financial Officer Robert Hull said at a June 10 conference hosted by Piper Jaffray Cos. "We need a good, stable, employment base, which we've got today."
Source:  Bloomberg Business